Dr. med. dent. Johannes Müller
Specialist in:
Specialist in reconstructive dentistry (prosthetics) with a focus on restoring aesthetics and chewing function from single teeth to complete dentures.
My focus is on planning, treatment and interdisciplinary coordination of dental restorations. As a reconstructive dentist, I accompany my patients from the initial diagnosis and planning to the completion of therapy in a conservative aftercare programme. I take great pleasure in providing individual solutions according to their wishes and the latest standards and in accompanying my patients empathically and with commitment.
Career development: My professional career began in Basel (Switzerland) when I started studying dentistry in 2010. After my exams, I completed a four-year continuing education programme in reconstructive dentistry at the University Dental Clinic of Basel, where I obtained the title of specialist in this field. I was then able to further deepen my expertise as a senior physician and pass on my specialist knowledge to colleagues.
Languages: German, Swiss German, English, French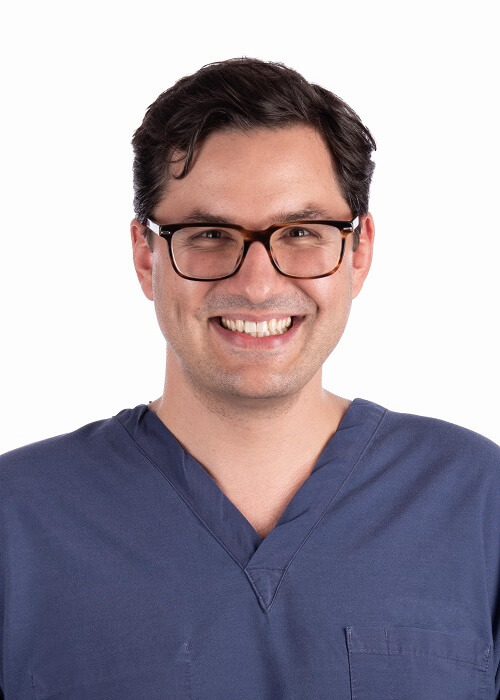 More information on Dr. Johannes Müller:
University education, postgraduate specialisation and professional career:
2010 - 2015 Study of dentistry at the University of Basel (CH)
2017 Promotion to Dr. med. dent. "Evaluation of ISO 4049: water sorption and water solubility of resin cements
2015 - 2019 Continuing education assistant in the Clinic for Reconstructive Dentistry (Clinic Director Prof. Dr. N. Zitzmann PhD) at the University Centre for Dentistry Basel (CH)
2019 Appointment as senior physician
2019 Specialist in reconstructive dentistry
2020 Employee dentist at the LMU Polyclinic for Prosthetics (Direction Prof. Dr. D. Edelhoff)
10/ 2020 to present Harder & Mehl Practice Clinic - Dentistry and Implantology
Müller JA, Rohr N, Fischer J. Evaluation of ISO 4049: water sorption and water solubility of resin cements. Eur J Oral Sci 2017; 00: 1–10.

Glauser S, Astasov-Frauenhoffer M, Müller JA, Fischer J, Waltimo T, Rohr N. Bacterial colonization of resin composite cements: influence of material composition and surface roughness. Eur J Oral Sci 2017; 125: 294–302.

Rohr N, Müller JA, Fischer J. Influence of Ambient Temperature and Light-curing Moment on Polymerization Shrinkage and Strength of Resin Composite Cements. Oper Dent 2017

Rohr N, Balmer M, Müller JA, Märtin S, Fischer J. Chewing simulation of zirconia implant supported restorations. J Prosthodont Res. 2019 doi: 10.1016

Berli C, Thieringer F, Sharma N, Müller JA, Dedem P, Fischer J, Rohr N. Comparing the mechanical properties of pressed, milled, and 3D-printed resins for occlusal devices. J Prosdent Res. 2019 doi: 10.10.16