Treatment procedure for veneers
In this case a veneer on the right central anterior tooth was replaced. The veneer was too dark. The shape of the central left incisor was changed upon the patient's request. This was done by using what is called a non-prep veneer (the tooth has not been ground).
The central incisors had been worn off due to intense brushing and erosion resulting from fruit acids (image above). Two non-prep veneers were used (the teeth have not been ground) as a way to restore the integrity of the surface (image below).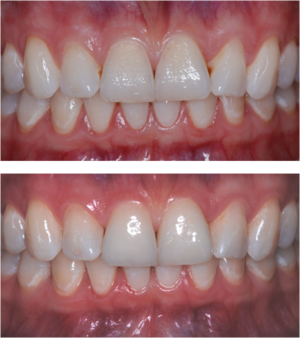 Even low-scaled treatments can make patients happy. This patient was bothered by his backward-leaning right lateral incisor. Again we stuck a cover (veneer) to the tooth, and no grinding was required.
In order to achieve a beautiful look throughout the imperfect crown of the left central incisor was replaced. The discoloured teeth were then covered with veneers.